Formation
Formation is a Redeemer initiative that equips you with practices to grow as a disciple of Christ.

Throughout 2018-2019, we are weaving Formation into Redeemer ministry contexts and offerings. View opportunities for discipleship:
Devotional | Sermon Series | Community Groups
Conference & Seminar Series | Online Pathways
---
How does spiritual growth happen?
All of us—all the time—are being formed. The things we choose to prioritize, ponder, and pursue shape us. Redeemer cares about your spiritual journey and believes your daily practices are the things that form you. We want to equip you with practices to help you grow as a disciple of Christ—not just for your own sake, but for the good of the city.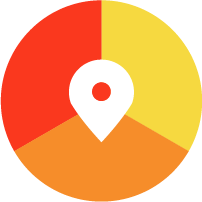 Formation offers all Redeemer churches a common approach and pathways that will help shape us as people called to Christ, are strengthened in community, and sent into the city.
---
Our identity in Christ is at the center of our formation.
---
The Formation of a disciple.
As Christ's love transforms us, we participate in our spiritual growth through the practices we do each day, the community we commit to, and how we live out our callings. None exist in isolation from the others, but they are all necessary for well-rounded spiritual formation.
Practices

How are we incorporating devotion, worship, accountability, hospitality, and rest into our everyday lives?

Community

Are we rooted as a member in a local congregation, engaging in communal liturgy, sacraments, and accountable relationships?

Callings

Are we fulfilling the biblical mandates to make disciples and bring renewal where God places us—in our relationships, work, and neighborhood?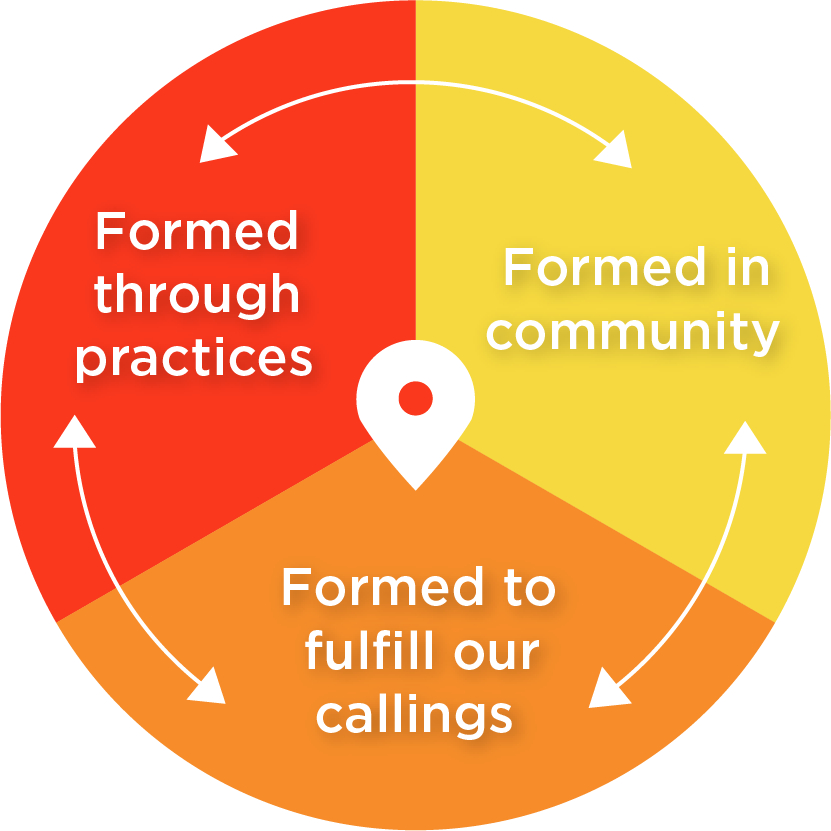 The Callings of a disciple.
There are three primary areas of life where we are called to serve and bring renewal.
Relationships

We are sent into every relationship—family and friends—for evangelism, reconciliation, and love.

Work

We can see our work as a context to fulfill God's purposes for us and to join in cultural and gospel renewal.

Neighborhood

Where we live is a place to root ourselves and invest—to be neighbors advancing justice, compassion, and mercy.
---
We are formed not for our own good, but for God's good in the city.
---
Sign up to receive the new Redeemer e-devotional to help build a daily practice of prayer and Scripture reading. Two devotional emails go out each weekday, with a summary email on Saturdays, that includes Old and New Testament passages and guided prayers. The Devotional is meant to facilitate extended conversation with God that equips us to be sent out with purpose, while also serving as a common prayer book for all Redeemer churches.
---
Family Devotional
The weekly Family Devotional is a resource to help you and your kids (ages 4-7) practice regular quiet times. Read scripture, reflect, pray and even do a fun activity together.
---
From September to May, Redeemer sermons will primarily focus on the topic of Formation: In Christ, With Community, For the City. The fall will focus on the primacy of a gospel identity and the role community plays in formation. The winter and spring will be oriented around the callings of Relationships, Work, and Neighborhood.
Last Sunday's Sermon (Free) Full Sermon Library
---
Redeemer Community Groups (CGs) are a primary way to cultivate a relationship with God and friendship with others. This year CGs will use a new curriculum to help us establish spiritual practices in both individual and community life. CGs will also focus on creating more intentional relationships of accountability.
---
Marquee events will bring together all Redeemer congregations and ministries to focus on living out our callings. They include teaching, worship, breakouts, and practical tools to help foster growth as a disciple.
November 16-17, 2018
Formed for Justice: What Does the Lord Require of You?
Throughout the Bible, we learn that God is a God of justice, and that through the power of the gospel, Christians are called to live in ways that reflect this justice. In fact, scripture tells us that one of the most powerful ways that the church embodies the gospel is through the love and unity we demonstrate across economic, cultural and racial divides (Col 3:12-15). What does this look like in our fractured society? How can we stay hopeful when it seems we are more divided than ever?
March 7-April 18, 2019
Questioning Christianity
Questioning Christianity is a seven-part series for seekers, skeptics and those exploring Christianity led by Tim Keller. Each week's subject builds on the previous weeks' sessions, and each is concerned with the larger question, "Does Christianity make sense emotionally, culturally and intellectually?"
---
Go deeper in the Formation initiative through our online learning platform. You'll find Redeemer resources, readings, sermon audio, and exercises on Gospel Identity, reading the Bible effectively, and more. These paths are meant to help you wrestle with major Formation themes on your own time, at your own pace, perhaps with an accountability partner or two. More paths will be added throughout the year.