Paige Gebert
Children's Ministry Administrative coordinator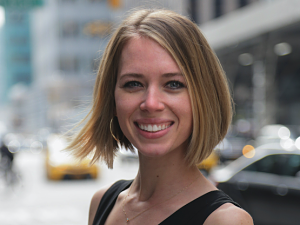 A native of Atlanta, Georgia, Paige moved to New York City five years ago with her husband, Joseph, and has lived everywhere from Crown Heights to FiDi to the Upper West Side. As a part of our Children's Ministry, Paige loves interacting with kids and being involved in their lives during the early developmental years to plant the seeds for growth.
Since attending Redeemer Downtown, Paige has noticed the congregation's commitment to developing and growing a thriving community. She regularly attends a community group, serves on the communion team and is involved in the Gotham Fellowship.
Paige also enjoys snowboarding, working out, coffee dates, walking around the city and traveling to warm destinations (with a beach). Her favorite places around the Downtown area are Mad Dog and Bean on Stone Street, plus Industry Kitchen, with its view of the Brooklyn Bridge. If you ever need a haircut, Paige is also a hairstylist, and if you ever need someone to operate heavy machinery, she also knows how to manage a construction site!