Redeemer Downtown Update
This past Sunday, we looked at the story of Priscilla and Aquila (Acts 18), two individuals who God used in remarkable ways through their ordinary faithfulness. They weren't larger-than-life heroic figures, dynamic speakers or visionary apostles. They were simply available and willing to live on mission through lives of ordinary community, hospitality and witness. It's a reminder that we are all called to be on mission together, which means we are all called to pray, give, serve and bring.
One of the most important values that Redeemer has held since its beginning has been encouraging friends to bring friends. The gospel is far more compelling when you are invited to hear it by a friend than if you simply come across it in a book or on a website. During this season of Public Faith, we are asking everyone to bring and invite their friends to a worship service (whether it's Sunday or LAB), or to the Questioning Christianity series.
We want Questioning Christianity to bring new people to hear the gospel for the first time and to help us become a community of bringers who love sharing the joy of Jesus with colleagues, neighbors and friends. Our staff has the goal and is praying that 300 Redeemer Downtown congregants would invite a friend to QC and out of that 100 would bring a skeptical friend to Questioning Christianity. Our staff commitment to everyone who invites a friend will be praying for you and your friend. Please share his or her initials with us on this prayer form: downtown.redeemer.com/qcprayer.
Our hope is that through this season, many people will discover Jesus for the first time and that the entire Downtown church will rekindle the joy of welcoming people to hear the good news about Jesus. Let's see if God can do extraordinary things through our ordinary faithfulness!
"'Nazareth! Can anything good come from there?,' Nathanael asked. 'Come and see,' said Philip." — John 1:46
Warmly in Christ,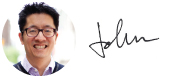 Redeemer Downtown Senior Pastor
---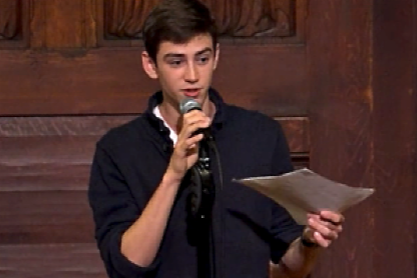 James Jourlait
Inspire Night testimony
Every day, I try to share the gospel in my school, and my faith has become a living and active part of who I am.
Note: James Jourlait is a high school senior and Downtown congregant. At Inspire Night event with Tim Keller, James gave a testimony about sharing his faith. He leads apologetics and theology discussion groups for believers and non-believers, hoping to both strengthen and spread the gospel amongst his peers.
I am a shy person. I used to be unable to call a hotel's front desk for an extra pillow, for fear of having to interact with the staff. The same could be said of my relationship with God until these past few years. My faith was something that I kept private, and I very seldom spoke up. I almost never talked about Jesus. In class teachers would ask us questions like, "What is the meaning of life?" and I didn't answer; in the hallways, people would mock Christians for their outdated beliefs and I didn't engage. My faith was a dead one. At the time, I was living in Paris, France. France is a very secularized country and silences any dissenting opinions. I was a dissenting opinion, and I knew it. I felt shame at not being able to speak up about the truth that had already changed my life. I felt like a doctor with a vaccine called grace, but I was too selfish and too scared to administer it to others.
At a moment when I felt the most helpless and unable to make my faith public, something happened. I went through the confirmation process at my church in Paris and I was surprised, when reading the scripture, at how courageous Jesus was. He may have been meek, but he was also bold—bold enough to face death. I saw that courage and I prayed, "Give me courage, Lord." I also asked for prayer from friends and pastors. A few more months continued in silence. But what's funny about prayer is that God might just give what you are asking for! I received courage and began speaking openly about my faith. The courage that I saw in Jesus was accompanied by the renewed knowledge and security in God's love for me. Me, a rebel sinner, who rejected God, was accepted into the fold. What did I do to deserve this? The only answer was: Nothing. I did nothing. Nothing good, that is. Plenty of evil though. God graced me with life to the fullest.
This renewed awareness of his mercy changed me. I now felt an unstoppable urge to speak about the gospel. The words just seemed to bubble up. I was shamed by my teachers and friends. I was stigmatized and called out for my regressive beliefs. I still am today. I have been mocked and called all sorts of names, from "intolerant" to "dangerous" and "deluded." I have been ejected from classes for speaking my mind. It was not for being arrogant or self-righteous, but for presenting a perspective that clashed with non-Christian worldviews. Some of my friends didn't want to hang out with me anymore because I didn't engage in locker room talk and I denounced degrading women. But through all this, God's word and promises kept me steady.
I brought this newfound courage with me to New York. When I came to Redeemer, my faith felt fairly strong but uninformed and somewhat immature. I was missing a strong theology. Redeemer and the West Side Youth Group have become both community training grounds and spiritual groups that have nurtured me into a loving person and a Christian who knows more about his faith. I still had a lot of questions, and I needed to learn more about them if I wanted to address the concerns of my friends. "What is the trinity? What is grace? What does the cross mean? How do I communicate the notion of sin to a culture that believes man is basically good?" These were questions that I needed to tackle. So I did my research. I asked questions. I had difficult conversations with my friends, parents and youth leaders. I read books. I read the bible. My model verse for sharing was 1 Peter 3:15, "But in your hearts revere Christ as Lord. Always be prepared to give an answer to everyone who asks you to give the reason for the hope that you have. But do this with gentleness and respect."
Prompted by my youth leader, Stephen Trafton, I decided to lead a book study over the summer on Mere Christianity by C.S Lewis. I had prepared some notes and I was very excited to share the gospel with my friends, both believers and non-believers. I worried that no one would show and that the message of the cross would not get a chance to be heard. I prayed and prayed, and asked for prayer. The fateful night arrived and, to my great joy, an amazing group came together! Our conversations were so fruitful and refreshing. In most of my conversations, teaching the radical nature of grace in the Christian message was completely new. (Somebody died for us! And not just anybody!) Most of what people heard about Christians included crusades, inquisitions, popes and the evangelical voter demographic. They often missed out on the Christ in Christianity. This series was a starting point for many discussions about Christianity. In sharing the gospel, I kept Jesus at the center at all times.
Every day, I try to share the gospel in my school, and my faith has become a living and active part of who I am. My prayer life has improved by sharing the message because I have no power of my own; it all comes from him. My friendships and family relationships have deepened. Have I suffered rejection here in New York? Of course! But the rejection has spurred me on and not discouraged me. To fight the good fight is hard, but it's worth it for God's glory and for the sake of those we love. And, we must always remember that we have the greatest helper of all. For just as we share abundantly in the sufferings of Christ, so also our comfort abounds through — 2 Corinthians 1:5.
---

WHAT'S NEW

+ Our staff wants to pray for the friend(s) you've invited to Questioning Christianity.

+ We're hiring! Our Children's Ministry is looking for a Nursery Coordinator and a Preschool Coordinator. Submit your resume to Karen Girard.

+ Dialogue with author Andy Crouch on what it means to raise a family in a tech-infused world. (Email Kari Jo Cates separately for details on a special welcome for DT families.)

+ Downtown Women will be discussing serving and hospitality at their next fellowship meeting in March.

+ Our Palm Sunday Choir for kids will start practicing soon! (So get ready for an adorable photo opp.)

DON'T FORGET

+ Join the Questioning Christianity series with Tim Keller in March: Register or submit questions for Tim to consider.

+ DT LAB's February theme is compassion and justice. Wednesdays at 7 p.m. Baruch College Mason Hall.

+ Our Holy Week Choir needs singers for Maundy Thursday and Easter. Sign up today.

+ Apply for the Gotham Fellowship, a nine-month intensive discipleship on integrating faith and work.

+ The Diaconate has a new divorce care group for women in any stage of separation.

HOPE FOR NEW YORK

+ Don't Walk By still needs more volunteers for this Saturday, February 16. Serve with the 20 Downtowners already signed up!
+ Lead robotics activities for kids at The Father's Heart KidZone program on Tuesdays.

+ On Wednesdays, mentor male participants of The Bowery Mission at a 10-week job readiness program.