Redeemer Downtown Update
Over 300 people attended the first session of the seven-week Questioning Christianity with Tim Keller last week at W83! Susan Nacorda, our Director of Leadership Development and the emcee for the series, recaps the first week and shares her thoughts:

At Redeemer, we believe that exploring our faith is not simply a matter of engaging our minds, but also our hearts and imaginations. During each night of QC, Tim will explore a specific topic related to the emotional, cultural and intellectual credibility of Christianity. We will also feature a variety of artistic expressions such as visual art, spoken word, dance and musical performances centered around the themes and questions we will be exploring together. This is the third year that Redeemer is hosting the church-wide Questioning Christianity series, but it's the first time that artists are being showcased alongside the usual lecture and Q&A.
Last Thursday, after contemplating work from the night's featured visual artist, Tim Keller delivered his talk on "Faith and Proof: How can you believe in something you can't prove?" Tim then addressed questions that were texted in from the audience, as well as some questions that were submitted during registration. Afterwards, we invited guests (over 200 joined us!) to continue the conversation over food and drinks; everyone was served by our pastoral staff (shout out to Jeff White and David Lee)! There was also an opportunity to ask Tim more questions face-to-face and nine guests even signed up for Questioning Christianity groups, which are peer-led discussion groups that will continue the conversation starting this March.

I really enjoyed connecting with guests from a variety of backgrounds—I had a great conversation about probability theory and the resurrection with a gentleman brought by a Downtown congregant. This series really is a fantastic opportunity to process the questions and doubts of our friends in a safe, warm and accessible environment.

As Questioning Christianity continues, our goal is that 300 Downtowners would invite their friends and that 100 Downtowners would bring one of those friends to QC. Our team is so excited that over 80 Downtowners have already registered to bring a friend! You can see the full QC schedule and register for each week at redeemer.com/qc.

Let's pray together that God works in the heart of each person who attends, and that even more people would join us in the coming weeks to explore the life-transforming claims of the gospel!
Peace in Him,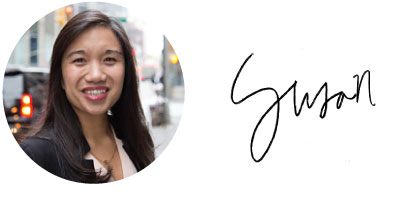 Director of Leadership Development
---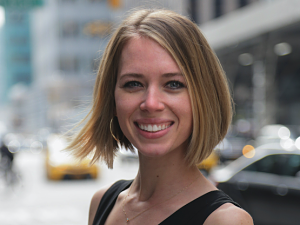 Paige Gebert
Children's Ministry Administrative Coordinator
Paige's hope for our church is that it provides a sense of belonging and builds community.
Note: Paige recently joined the Downtown Children's Ministry and is a part of the Gotham Fellowship program for 2018 to 2019.
A native of Atlanta, Georgia, Paige moved to New York City five years ago with her husband, Joseph, and has lived everywhere from Crown Heights to FiDi to the Upper West Side. As a part of our Children's Ministry, Paige loves interacting with kids and being involved in their lives during the early developmental years to plant the seeds for growth.
Since attending Redeemer Downtown, Paige has noticed the congregation's commitment to developing and growing a thriving community, and it has challenged and changed the way she views the body of Christ and her purpose in it. Her hope for our church is that it provides a sense of belonging and builds community. She regularly attends a community group, serves on the communion team and is involved in the Gotham Fellowship.
When she's not working for Children's Ministry, Paige also enjoys snowboarding, working out, coffee dates, walking around the city and traveling to warm destinations (with a beach). Her favorite places around the Downtown area are Mad Dog and Bean on Stone Street, plus Industry Kitchen, which has a spectacular view of the Brooklyn Bridge. If you ever need a haircut, Paige is also a hairstylist, and if you ever need someone to operate heavy machinery, she also knows how to manage a construction site!
---

WHAT'S NEW

+ Questioning Christianity*: We still need an Usher Captain! Email for details | See the schedule | Pray for your friend(s)
* Registration is required and attendance is only for those exploring the Christian faith or someone in the Redeemer community who is bringing a friend who doesn't identify as Christian.
+ Mark your calendars: DT LAB is hosting a 3-day pop-up art event in April, with a special service at a TriBeCa art gallery.

+ CFW's 12-week Faith & Work Intensive, which explores our work through the lens of gospel identity, begins on Saturday, March 30.

DON'T FORGET

+ Another Intro to Redeemer Downtown session is coming in April! Sign up to start the membership process.

+ Get involved with the Palm Sunday Children's Choir. Rehearsal starts Sunday, March 17.

+ Apply for the Gotham Fellowship, a nine-month intensive discipleship on integrating faith and work.

HOPE FOR NEW YORK

+ Serve as mock interviewer at The Bowery Mission on Wednesday, March 20 to help workforce readiness participants.

+ Assist students at The Salvation Army's music program on Tuesdays.

+ On Mondays and Wednesdays, serve lunch at The Salvation Army.

+ Join the Downtown team for the annual HFNY Charity Run at Flushing Meadows Park!