Redeemer Downtown Update
"A long convalescence easily disrupted." That is how one person describes the Christian life. This has always resonated with my experience. We know that things are deeply wrong with us. We are not well. We are not whole. But we are in the process of being made well. Being made whole. Our humanity restored.
I remember a good friend of mine being in the hospital. She went in quite sick. But one of the fundamental things that was wrong was addressed through an operation. She started to get better. But her health still remained fragile. There could easily be set backs. Such is our situation with being followers of Jesus. We all face setbacks. They don't surprise us. We quickly cave in to living selfishly again — forgetting God, living purposelessly, indulging appetites wrongly, loving poorly, ignoring the fact that we were created by and for God.
One of the things that Christians through the centuries have done in order to counteract these disruptions is to celebrate Lent. During Lent, we disrupt the disruptions. As I said in my Ash Wednesday letter, "Lent is a season of joyful repentance. Joyful because it has a goal in mind — resurrection and new life. Repentance because this is the way to new life, which happens by grace but not automatically."
One of the marks of new life, of resurrection life, is that we know who we are. We know that we are created by and for God. That is fundamental. And the redemption that comes through Jesus' death is about restoring a profound sense of that identity. We are not our own; we were bought with a price. Through Jesus, our friendship with God is restored. We are given the chance to remember who we are: Made by God. Dependent on God. Unable to breath apart from God. Unable to do anything good apart from God. "Apart from me you can do nothing."
Lent should never be morose — an annual ordeal during which we begrudgingly forgo a handful of pleasures. Instead, it ought to be approached as an opportunity to remember that we are dependent on God, who offers us what we cannot do without: the Bread of Life and Living Water. After all, Lent is meant to be the church's springtime, when out of the darkness of sin's winter, a repentant, renewed, empowered people emerges.
Under the Mercy,
Redeemer Downtown Assisant Pastor
---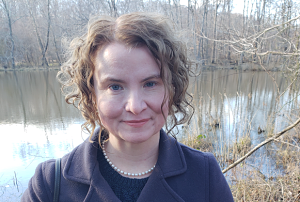 Katie Sullivan
Brooklynite and Sunday Service volunteer
Katie has seen extraordinary transformations that could only be the work of the Holy Spirit.
Katie is a familiar face at Redeemer Downtown who's involved with serving communion and participating in prayer meetings at the Sunday PM service. Katie lived in the city for a long time without attending church, although she was a believer. When a pastor from her old church in upstate New York recommended that she Google Tim Keller and try his church, she found herself at the East Side before moving to Downtown when it launched. Having spent about a decade away from church, the first Redeemer service she attended was like coming home after a long stretch in prison.
A Brooklynite, Katie has lived in Park Slope, Dumbo and Boerum Hill; she's been in New York for 13 years! As a lawyer, she currently works on anti-corruption investigations in developing countries. She enjoys the work, but is also challenged daily to pray for the people and cities she investigates, to remember that Jesus came to save sinners not condemn them. She is also challenged by the loneliness and isolation of the city; people are busy and have their guard up, making relationships very transactional and making it hard to forge real friendships.
In spite of this, she has formed relationships by serving on the prayer team at Father's Heart for over five years. She has a genuine affection for regular faces and names and their stories, and she has seen extraordinary transformations that could only be the work of the Holy Spirit. She is grateful for the opportunity to remind folks they are not alone and that God loves them.
In her downtime, Katie enjoys stopping by the lobby bar at the Marlton hotel on West 8th. (Hello, fireplace…!) She also loves attending the New York City Ballet at Lincoln Center, walking around the Reservoir in Central Park during the fall and watching BBC detective shows. Katie also loves playing board games and reading Christian author Paul Miller, whose new book she had a chance to preview before publication!
Katie is grateful for the decade that she spent away from church; the memory of that bleak time is something God uses now to remind her to stay close to Him and how hopeless life is as a prodigal. She prays that Redeemer will be a place where deep friendships grow among God's people, because loving relationships are one of the best witnesses to the power and grace of God.
---

WHAT'S NEW

+ Next week (April 1 to April 3): DT LAB's Marked by Beauty event in TriBeCa! Join us every evening to see art and worship in a gallery.

+ Our full Holy Week service schedule, including Maundy Thursday service with footwashing and a communal meal ($10/pp and $30 per family).

+ Children's Ministry needs your feedback: If you're a parent with kids attending Sunday School, take this five-minute survey.

+ W83 Ministry Center invites you to join authors Amy Julia Becker and Andy Crouch for a conversation about what Becker's learned in raising a child with special needs.

DON'T FORGET

+ Questioning Christianity: See the weekly topics | Help us pray for your friend(s)

+ Another Intro to Redeemer Downtown session is on Sunday, April 7! Start the membership process and meet other congregants.

+ From CFW: Applications for Gotham Fellowship Class of 2019-2020 are open until April 30!

HOPE FOR NEW YORK

+ Hear from those working with vulnerable New Yorkers at Housing & Inequality in NYC: A HFNY Network Talk on April 1.

+ Distribute food and supplies to guests at The Bowery Mission alongside men in a recovery program.

+ Serve children and families at Center for All Abilities, from leading art projects or games to mentoring.

+ Run with the Downtown team for the annual HFNY Charity Run!