The most important way to get involved in the life of our congregation is to join a community group (or CG), where we cultivate a relationship with God and friendships with others.

Watch this video to get a glimpse of our community groups.
---
Find a group
Click on the image below to find a community group in your neighborhood. You can use the filters to select a group that meets on a day and time that would be easy for you to attend regularly. Questions? Email [email protected].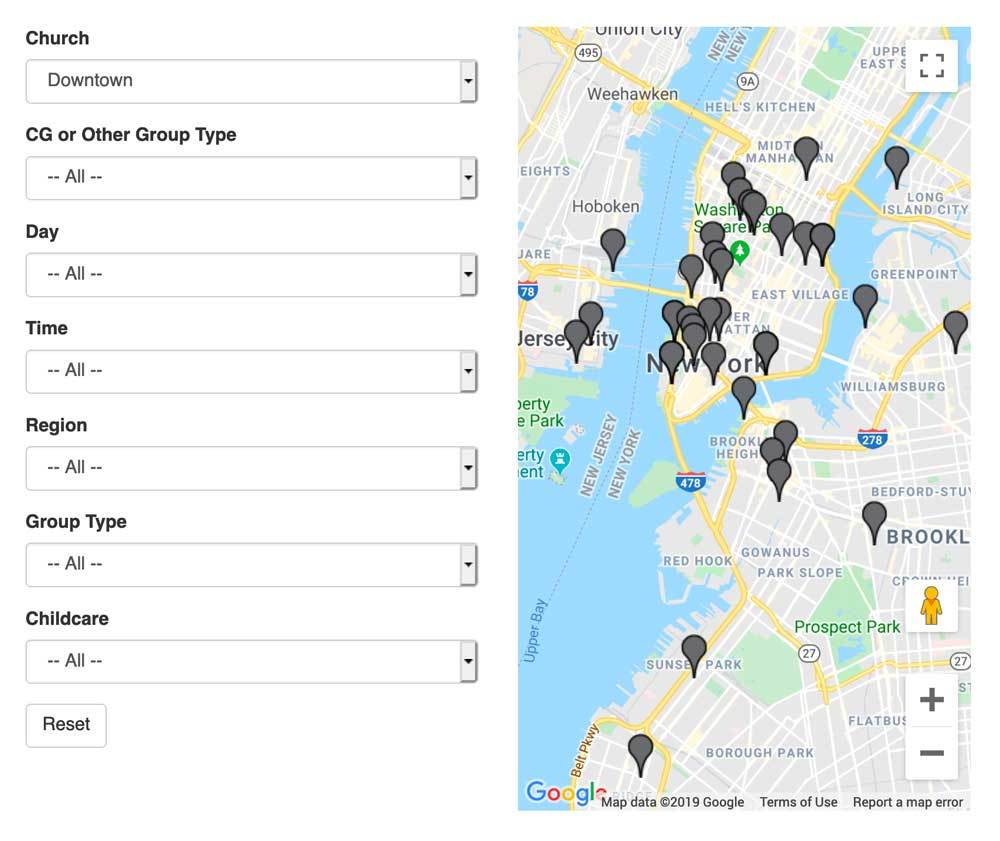 ---
Group options
Community Groups
Community groups are a great place to make friends and experience God in our midst. They meet in homes throughout the city for worship, Bible study, fellowship, and prayer. (Many groups also participate in service projects and social events.) Typically, a community group has six to twelve members, with a leader who receives support and oversight from pastoral staff.
Community groups revitalize and strengthen us as we seek to reflect the love of Jesus to our fellow New Yorkers. As God made us for community, we need others to help us apply the gospel to our lives. We hope that everyone who attends Redeemer will be involved in a community group. New groups start every September, but you're welcome to join open groups at any time of the year.
Find a group near you.
Questioning Christianity Groups
Questioning Christianity groups provide a forum for openly and respectfully asking questions and discussing foundational topics about Christianity. Those who are curious about the Christian faith can process their thoughts with like-minded people and learn how the claims of Christianity relate to everyday living.
---
Frequently asked questions
There are so many group choices. How should I decide?
At the top of the find a group map, filter results by location, time, and type of group. Regular attendance is important for building a sense of community, so try to find a group that you can go to consistently. If you need further guidance, contact [email protected].
May I be in more than one group at a time?
Yes, if you have the bandwidth to attend multiple groups consistently, but we have found that a typical New Yorker's schedule makes it difficult to participate fully in the life of more than one group at a time.
Can I find a group with people in the same work field as me?
We do not offer community groups for specific work fields. To learn more about events that focus on particular industries, please visit Center for Faith & Work.
How can I start my own group?
If you love people and want to serve, please email [email protected]. We provide training and support for all new community group leaders. See lead a group for more information.
I signed up for a community group but haven't heard back. What should I do?
Please contact [email protected]
May I join a community group that is affiliated with a different congregation?
We highly recommend belonging to a community group that is affiliated with the church that you attend, as this allows you to see group members at worship services and other events and provides the opportunity for deeper, stronger relationships.