Lindsay Anderson
Elementary Coordinator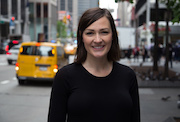 Lindsay Anderson spent her growing up years in Central Pennsylvania, and then in Northern Virginia. After graduating from Grove City College with an elementary education degree, she returned to the D.C. area where she taught elementary school for five years. During that time, she earned her master's degree in Educational Leadership with a concentration as a Math Specialist. With a new focus on math education, she began working as a middle school math teacher and later an instructional coach. In the summer of 2016, she moved to New York City with her husband for his work. In her free time, she enjoys reading, listening to podcasts, exploring neighborhoods, and eating brunch.
Obed Bazikian
Sunday Service Manager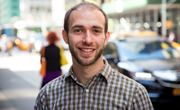 Obed grew up right outside NYC in northern New Jersey. For college he traveled to Dallas, TX, and received an Associate's degree in Practical Theology from Christ for the Nations Institute. He then completed a BA in Political Science from Rutgers University and pursued politics for a few years in NYC, Washington DC, and on the campaign trail. Obed started attending a Redeemer Community Group in 2011, and, between political endeavors, he helped launch the Downtown congregation as part of the Operations staff in 2012. For fun, Obed enjoys nature outings, classic cartoons like Bugs Bunny, The Chronicles of Narnia, LOTR, and various arts and crafts. When time allows, he also works on home renovation and landscaping projects.
Kari Jo Cates
Director of Welcome and Engagement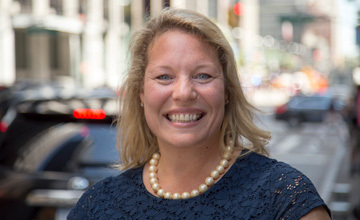 Kari Jo moved to the City in 1996 as an starry-eyed newlywed. From the beginning, Redeemer's ministries have shaped her understanding of the gospel and the city. Hosting and leading Community Groups since she and her husband, Cory, first arrived years is one of the central parts of her family's life. She's held many roles at Redeemer both formal, as a Community Group Coordinator, and volunteer, including Deaconess, Trustee, Mom's Group Director and West Side Women founder and leader. Additionally, she is honored to serve on the faculty of City Seminary of New York in Harlem, where she is currently completing her MA in Ministry in the Global City. As a creative outlet and to make ends meet while her husband was in grad school, Kari Jo built her own calligraphy business, citywrites. The hardest and most rewarding job she's ever held, actually, is raising her four children — Nathan, Henry, Caroline and Betsy. Don't be surprised if you see Kari Jo speeding by on a Citibike on her way to the Redeemer offices where she's eagerly exploring ways to connect people to God and to each other within our Downtown congregation.
Eunice Chang Anderson
Community Life Manager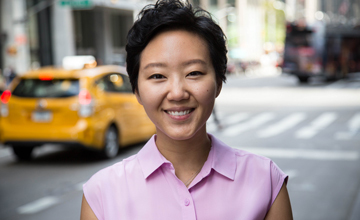 As a native of the tri-state area, Eunice has spent much of her life in the various suburbs of New York City. Before joining Redeemer, Eunice practiced law in a corporate law firm and a non-profit organization. She is excited to now be a part of a team dedicated to fostering community and a sense of being known in a large city and a large church. Eunice also serves as a deaconess and, in her free time, likes to take in the arts offered by the city, do craft projects and try any kind of frozen dessert.
Rev. Charles Chung
Pastoral Resident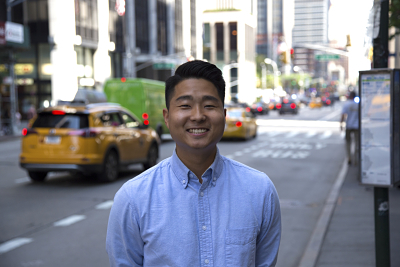 Charles is better known as "Cheech." He was born and raised in Brooklyn. In 2010, he asked Christina to be his girlfriend three times before she said, "Yes." They've been married since August 2015. He graduated from Cairn University with a Bachelors in Bible and a Bachelors of Social Work. A short time after, he was led to Westminster Theological Seminary to study theology and received a Masters in Divinity. He loves and reps NYC because of the diverse people, cultures and foods. Cheech loves all sports from local-known handball to basketball and everything in between. He is also a self-renown, amateur photographer and videographer.
Emily Davidson
Early Childhood Coordinator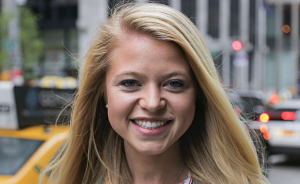 Since moving to New York City from Dallas, Texas in 2018, Emily has become a vital part of the Downtown community. She's a part of a community group of recent grads, which has provided friendship in a fun, relaxing environment, and she has seen God provide during her first year in the city. In addition to being on staff, Emily is also a musical theater performer and a Hope for New York representative. She also loves to run in Central Park, explore all the city neighborhoods, and sing the entire Les Misérables soundtrack while cooking. When she's not cooking, she's hanging out at her favorite Downtown restaurants: Rosemary's in Greenwich, Hudson Clearwater in the West Village, and City Vineyard by Pier 26. When you meet her in person, make sure to ask about her experience hunting alligators on the Amazon River—twice!
Redeemer Downtown Elders
The Redeemer Downtown Elders consist of Bruno Assante, David Hawkins, Bryce Humphrey, Wally Larson, Jr., Henry Woo and Andrew Yong. To be in touch with our elders, please send an email to [email protected] and someone will be in touch with you within 48 hours.
Paige Gebert
Children's Ministry Administrative coordinator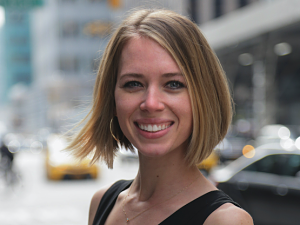 A native of Atlanta, Georgia, Paige moved to New York City five years ago with her husband, Joseph, and has lived everywhere from Crown Heights to FiDi to the Upper West Side. As a part of our Children's Ministry, Paige loves interacting with kids and being involved in their lives during the early developmental years to plant the seeds for growth.
Since attending Redeemer Downtown, Paige has noticed the congregation's commitment to developing and growing a thriving community. She regularly attends a community group, serves on the communion team and is involved in the Gotham Fellowship.
Paige also enjoys snowboarding, working out, coffee dates, walking around the city and traveling to warm destinations (with a beach). Her favorite places around the Downtown area are Mad Dog and Bean on Stone Street, plus Industry Kitchen, with its view of the Brooklyn Bridge. If you ever need a haircut, Paige is also a hairstylist, and if you ever need someone to operate heavy machinery, she also knows how to manage a construction site!
Karen Girard
Children's Ministry Director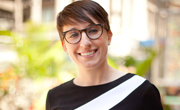 A native of sunny Tempe, AZ, Karen Dolan moved to New York City in the Spring of 2008, armed with a bachelor's in education and ready to take on the schools of New York. After a teaching stint at two public schools in the Bronx, Karen decided to use her teaching background to pursue a master's degree in school counseling. While working toward her master's, Karen began working with Redeemer Children's Ministry as a Sunday School and Moms' Group teacher. She's worked with a multitude of Redeemer families. Karen joined Redeemer Downtown in March 2013. She loves downtown, children, and their families and is thrilled to be a part of what God is doing here. Karen loves riding her bike to far-flung locales such as City Island, New Jersey and Coney Island — basically anywhere with a food-focused destination.
Harrison Hollingsworth
Morning Music Director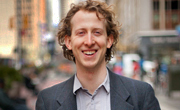 Harrison Hollingsworth was raised in suburban Texas and grew up in the church. At 18 years old, he moved to Center City Philadelphia for music school and attended Tenth Presbyterian Church, his first exposure to city ministry. His severe culture shock was cushioned by a church that loved students and loved the city. Harrison joined Redeemer in 2008 when he came to New York to play Principal Bassoon at the NYC Ballet. God took him through an amazing discipleship journey, led by a combination of the preaching, the experience of leading a Community Group, and the courtship of the woman who soon became his wife. Harrison's hope for Downtown is that we will bring the healing power of the gospel to lower Manhattan in word and deed and that we will worship on Sundays in a way that both edifies the church and attracts seekers and skeptics to our community.
Marla Jea
Community Life Associate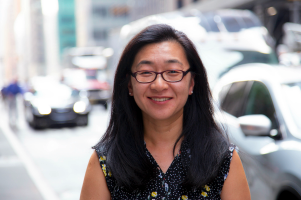 Marla was adopted when she was two. She grew up in Phoenix and moved to NYC in 1999 to work in publishing, where she enjoyed copyediting cookbooks and novels. During her first fifteen years in New York, she carried on a tumultuous love/hate relationship with the city but was eventually won over by the power of community (and a new Trader Joe's opening up in her neighborhood). In 2018, Marla's birth sister found her, launching a cultural identity adventure that started with Skype calls and K-dramas and culminated in a half-year visit to rural Korea. As her story continues to unfold, God's faithfulness is the consistent theme.
Mark Lau
Evening Music Director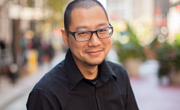 A graduate of Manhattan School of Music, Mark Lau grew up in Sydney, Australia and has lived in Downtown Manhattan since 2003. Mark and his wife Helen have three children, Jack, Jonah and Joshua. When Mark is not working as a freelance bass player, he likes to spend time with his family on the Lower East Side.
Rev. David Lee
Assistant Pastor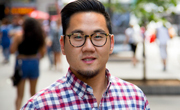 David Lee moved to New York City from the mean streets of Delaware in 2005 to study finance at NYU. After making use of his degree as an investment banker for a number of years, he recently left Wall Street to pursue a Masters of Divinity at Westminster Theological Seminary. He joined Redeemer's staff in 2015 as a Community Group Intern for the Downtown congregation and has also served as an intern for the Center for Faith & Work. In his free time, David enjoys exploring new cafes with good coffee and air-conditioning, and walking the streets of the city to his own soundtrack. He also likes talking sports, eating good food and wearing colorful socks!
Susan Nacorda Stang
Director of Leadership Development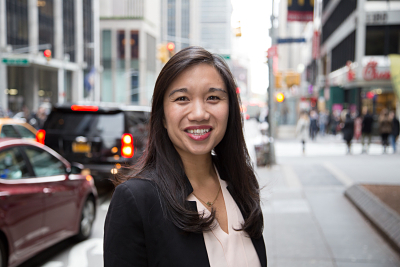 A Southern California native, Susan Nacorda Stang came to the city for adventure and to study business at New York University in 2001. She worked for a hip-hop magazine before entering vocational ministry in 2005 to work for a discipleship and evangelism focused college ministry called The Navigators. A natural people gatherer, fun maker and risk taker, Susan has loved serving with college students downtown for the past seven years. She joined Redeemer's Community Group team in 2009 and is excited to be a part of launching a congregation near where she lives, works and plays. In her free time, Susan listens to a lot of live music, gives out "free hugs," tries to cook, rides her bike, goes climbing, and spends time with her husband and baby in Harlem!
Andrés F. Quintero
Youth Ministry Manager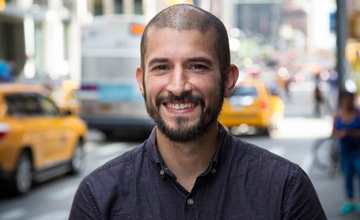 Andrés Quintero moved to New York City from Colombia with his wife and two boys in February of 2011. He first learned about Redeemer while living in Colombia. While waiting on line in the grocery store, he found himself in the self-help area, where a copy of "Reason for God" caught his eye. He remembers telling his wife that he wished to join a church as stimulating as the message in the book. Little did he know a few months later he would be moving to NYC and calling Redeemer home. Though an architect by training, Andrés has been involved in the fashion industry for more than ten years. Upon moving to New York, he worked as senior designer for LeSportsac. Most recently, he and his wife launched their own leather handbag line, Min and Mon, inspired by the names of their sons, Benjamin and Simon. Andrés and his family joined Redeemer Downtown in its early days. Andrés has served as a Community Group leader and Beta leader. Now being an entrepreneur, he has the opportunity to explore vocational ministry, which is a dream come true! For fun, Andrés loves illustrating picture books and would never turn down an offer to play tennis.
Marie Sclafani
Generosity and Membership Coordinator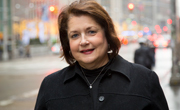 A native New Yorker who has lived in four of the five boroughs; she moved to Dallas, TX for a number of years where she raised her three grown sons. Upon her return to NYC in 2000, Marie started to attend Redeemer. She became a Community Group Leader and then went on to serve on the Diaconate from 2005 to 2009. Marie spent most of her career in the field of staffing and Human Resources and assisted in forming the Job Search ministry. She is thrilled to be working on staff at Redeemer assisting John and the helping the team serve the Downtown Congregation. Marie enjoys exploring the many neighborhoods in NYC and spending time with her five grandchildren.
Josh Simmons
Ministry Director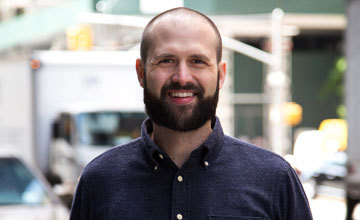 Josh Simmons grew up in Tennessee and spent nine years in South Carolina during and after college. In May 2010, Josh and his wife, Meggie, packed up a Penske truck with all of their belongings and headed to the city. In October of that same year, they found out that Meggie was pregnant — as if a move from South Carolina to New York City wasn't a big enough change for them. Since being in the city, all of Josh's work has been downtown, so he has come to love this area of Manhattan and the people there. Josh loves spending time with his family in Prospect Park, going to new restaurants, discovering new music, attending concerts and working from a standing desk.
Rev. Jeff White
Interim Lead Pastor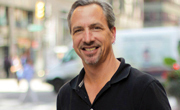 A graduate of Westminster Theological Seminary, Jeff started his ministry at Tenth Presbyterian Church in Philadelphia and then went on to serve as the first associate pastor at Redeemer from 1990 to 1998. At Redeemer, he oversaw community formation through fellowship groups before moving on to become the organizing pastor of New Song Community Church, a multi-ethnic, church-based community development effort in Harlem. Jeff is very excited to have rejoined the staff of Redeemer to launch and serve the Downtown congregation. Jeff and his wife, Rebecca, have been married since 1985 and have three children (Kirsten, Corina, Andrew) and two grandchildren. Prior to entering the ministry Jeff worked as a physical therapist.