Redeemer Downtown Update
One of the most wonderful realities of summer is that it offers an opportunity to breathe and find space in our lives, especially after all the frenetic activity of the fall and spring. Summer is a time when we can be outdoors, the city begins to empty out, and unforgiving schedules relax. For our kids, routines utterly fall to the wayside!
To provide some direction and structure for your spiritual formation this summer, here are ideas suggested by Susan Nacorda Stang, our Director of Leadership Development. We want to help you grow spiritually (which is why we recently asked for your feedback in a Spiritual Health survey), and the resources below will help frame our 2019-2020 ministry year.
My hope and prayer for you is that even during the relaxed rhythms of summer, this would be a season of renewal, flourishing and experiencing God in ways that are fresh and invigorating.
Have a great summer!
"I am the vine; you are the branches. If you remain in me and I in you, you will bear much fruit; apart from me you can do nothing."
— John 15:5

Warmly in Christ,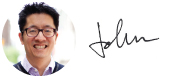 Redeemer Downtown Senior Pastor
---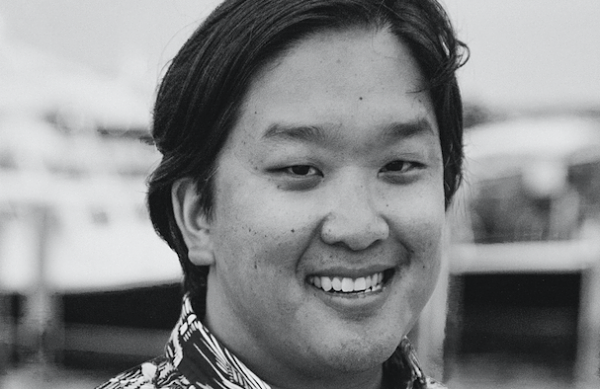 Ben Liong Setiawan
Lifestyle Editor
"His hope for Downtown is that it will be an example of humility and grace to the city."
Note: Ben is a Downtown member and a regular attendee of the PM service.
"In west Philadelphia born and raised…" Benjamin Liong Setiawan moved Fresh Prince-style to a new city: New York! Since relocating to the Big Apple 20 years ago, Ben has lived everywhere (East Village, SoHo, Chinatown, UES, Alphabet City, and NoMad), which comes in handy as a freelance lifestyle editor and writer who covers the worlds of travel, food and drink, and style around the city and abroad. He's also the brainchild behind Instagram accounts Hungry Editor, Thirsty Editor and Lil' Hungry Editor.
Ben has been a part of Redeemer for 17 years, and a part of Downtown since the early days when it was still an idea! He serves as a CG Leader Coach and is a Hope for New York volunteer (Father's Heart, Don't Walk By); he was even a co-chair of the RISE Campaign that raised funds for Redeemer church plants around the city. His hope for Downtown is that it will be an example of humility and grace to the city, and also be at the forefront of seeking healing and justice.
When he's not traveling for work, Ben loves running, snowboarding, and making sure to invest in relationships with friends inside and outside of the church. This may include dining at his picks for Downtown eateries: Curry-Ya, Supper, Uncle Boons, Cafe Altro Paradiso, Shu Jiao Fu Zhou, and Alphabet Scoop! The next time you see Ben at PM service, make sure to tell him what Harry Potter house you sorted into (he's a Ravenclaw)!
---

WHAT'S NEW

+ Our Brooklyn Community Groups are organizing a Field Day in Prospect Park! All are welcome to join and bring something to share! RSVP with Audrey Son.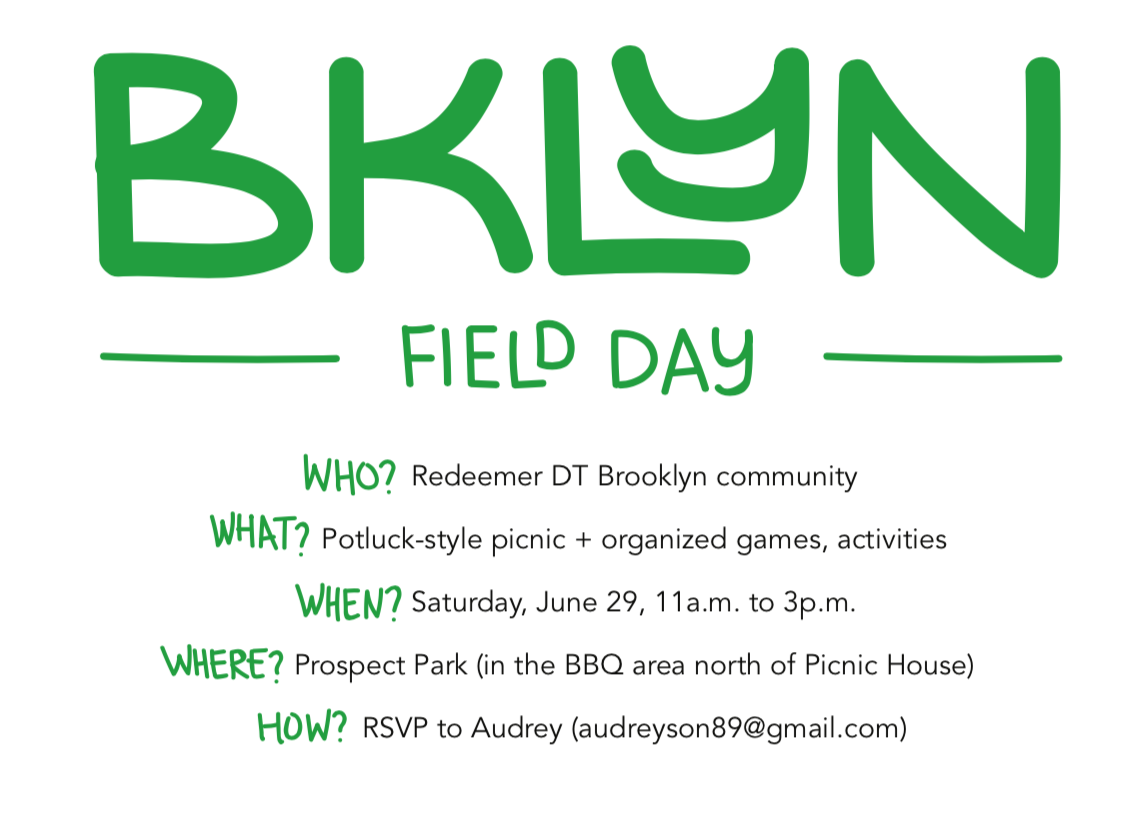 + We love picnics, and Downtown Women is organizing one, too! Sunday, July 14 at Rockefeller Park in Battery Park City, from 12 to 3 p.m. Bring picnic essentials to share (food, drinks, blankets, etc.). RSVP with Katie Peters.

+ Were you at the Formed for Justice Conference in November 2018? If you attended or missed it, all conference recordings are now available.

+ Want to join our worship team for evening service? There are vocal and instrumental auditions at 2 p.m. every Sunday until July 7. Email [email protected].

DON'T FORGET

+ Attend our last Intro to Redeemer Downtown session before the summer starts! Sunday, June 23. (Lunch will be provided.)

+ Vacation Bible School starts next month and we need volunteers! Check in kids, teach crafts, share Bible lessons and more.

+ Traveling this summer? Keep your giving consistent by setting up recurring giving online. (Here's a look at our Q1.)

HOPE FOR NEW YORK

+ Serve at a community food pantry in Brooklyn on Saturdays from 7:30 to 10:30 a.m.

+ Help serve breakfast to homeless guests at St. Paul's House on Mondays and Fridays from 7:00 to 9:00 a.m.

+ Prepare and serve dinner at The Bowery Mission for low-income and homeless guests on Friday, June 28.